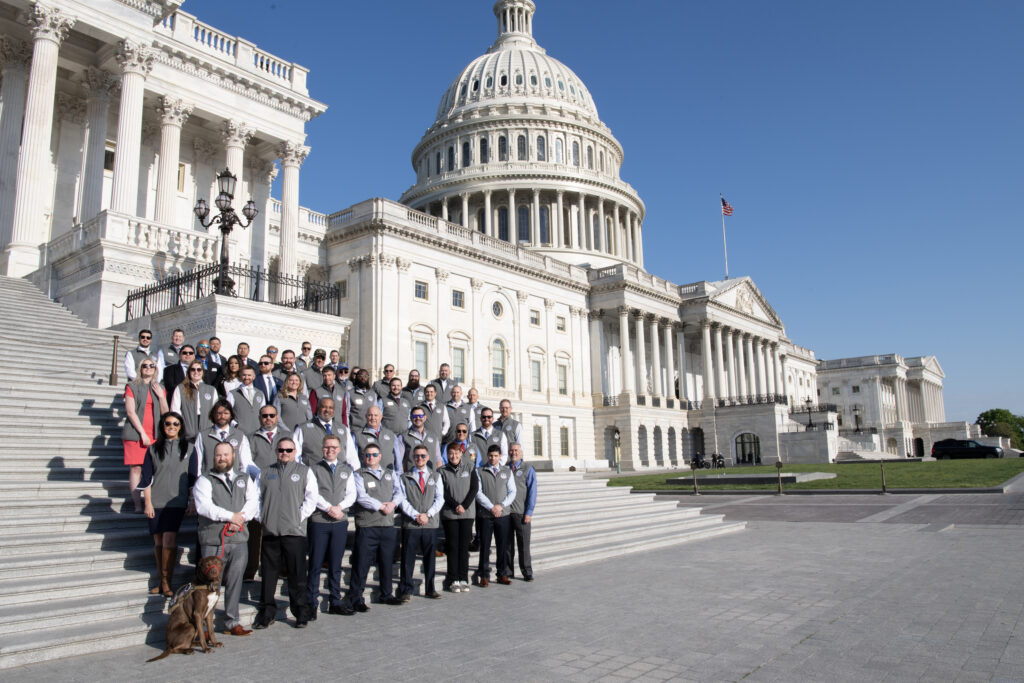 Vets on the Hill 2023 is in the books!
This year, we brought nearly 50 staff members and volunteers from all over the country to lobby on Capitol Hill. For three days, these veterans and military family members met with members of Congress to share their stories — from the battlefield to the transition out of military life to accessing needed medical care at the Department of Veterans Affairs.
Here are a few of the biggest things that happened:
Our team completed 92 meetings with members and staff
23 members joined as cosponsors on legislation we brought to them, including Sen. John Kennedy (who introduced the Senate version of the Veterans' True Choice Act for the first time), Sen. Marco Rubio cosponsoring the Veterans HEALTH Act, Rep. Jay Obernolte cosponsoring the House version of the Veterans True Choice Act, Rep. Maria Salazar signing on to the Veterans True Choice Act AND the Veterans Health Care Freedom Act, and Rep. Lauren Boebert cosponsoring repeal of the Iraq war authorizations.
Jerry Moran's bipartisan Veterans' HEALTH Act was introduced. This legislation would ensure veterans know what their community care options are, write into law the standards for accessing community care, and expand access to more veterans who want to use community care for mental health.
Take a look at more highlights from Vets on the Hill, who we met with, and who signed on to legislation that puts veterans at the center of their health care.
The most important thing we do at Vets on the Hill is share personal stories, specifically our experiences with VA health care and benefits.
Jessica Villarreal, a combat veteran and former social worker at the VA, had the opportunity to share what she witnessed at the VA with Sen. Ted Cruz. A long-time advocate of reforms at the VA, Sen. Cruz listened to Jessica's experiences at a VA facility in their home state of Texas.
Members of Congress need to hear what is really going on at the VA, so we're grateful Sen. Cruz took the time to really listen to Jessica and her concerns.
One of the biggest highlights from Vets on the Hill was getting to hear from Rep. Greg Steube, who has consistently been a champion on veterans' issues.
An Army veteran himself, Rep. Steube has introduced legislation to expand access to medical care for veterans by allowing them to choose to enroll in certain TRICARE plans instead of the VA system. He joined CVA for a reception at the Capitol and spoke about his plans to continue being a strong advocate for his fellow veterans.
We had the great opportunity this year to not only bring our staff, but our volunteers as well. CVA Strategic Director Frank Bullock brought four volunteers from his veteran community back home in South Carolina, and they met with Sen. Deb Fischer of Nebraska.
Frank's volunteers shared their personal experiences with accessing needed medical care for their unique health challenges.
Frank, who was at Vets on the Hill for the first time, said:
"Getting to meet the men and women representing us through our government is something amazing and truly American.  It connected me with the founding fathers' desire to have a system of government, whereby people could petition representatives and senators to have whatever issues they needed addressed, be addressed.  And it's always a blessing to be in the presence of other veterans, to hear their stories of service, and to make sure those stories are heard in Washington."
Rep. Matt Rosendale has been a champion for veterans during his time in the House. He took the time to talk with CVA Strategic Director Chris Enget, who is also a constituent.
Chris talked through the bills CVA is working to get passed, and the team is excited for opportunities to work with Rep. Rosendale to get those bills signed into law.
The team met with Rep. Derrick Van Orden, a new member of Congress and former Navy SEAL.
Rep. Van Orden has come out strong as a leader on VA issues from his seat on the House Veterans Affairs Committee. He shares his experiences as a veteran himself, and we're excited to find ways to work with him in the future.
Rep. Maria Salazar proved to be one of Vets on the Hill's biggest champions.
After our team met with Rep. Salazar's staff to discuss issues with the VA and our solutions, the representative signed on as a cosponsor on the Veterans True Choice Act and the Veterans Health Care Freedom Act.
We weren't able to snag a picture with her when she stopped by in between meetings and votes, but we're so grateful to her for visiting with us for a few moments and her staff for taking the time to meet!
The team from Arizona and Virginia stopped by Sen. Markwayne Mullin's office, where we got an impromptu visit from the senator. He spent time asking each person in the room about their personal stories and finding common ground to connect with everyone.
Arizona Strategic Director Amanda Tallman, also a Vets on the Hill first-timer, said this after the meeting:
Coming to Vets on the Hill was scary for me because I didn't know if people would actually listen to my story. But meeting with Sen. Mullin was a great experience. I'm not a constituent of his, but we share that we are both adoptive parents. He took the time to hear my story of service and raising a family as I've transitioned out of the military. I am so grateful I was able to attend and advocate not only for myself, but veterans in Arizona and around the country.
Want to join us in bringing veterans health care and foreign policy reform to Washington? Visit our action center to send your lawmaker a letter!