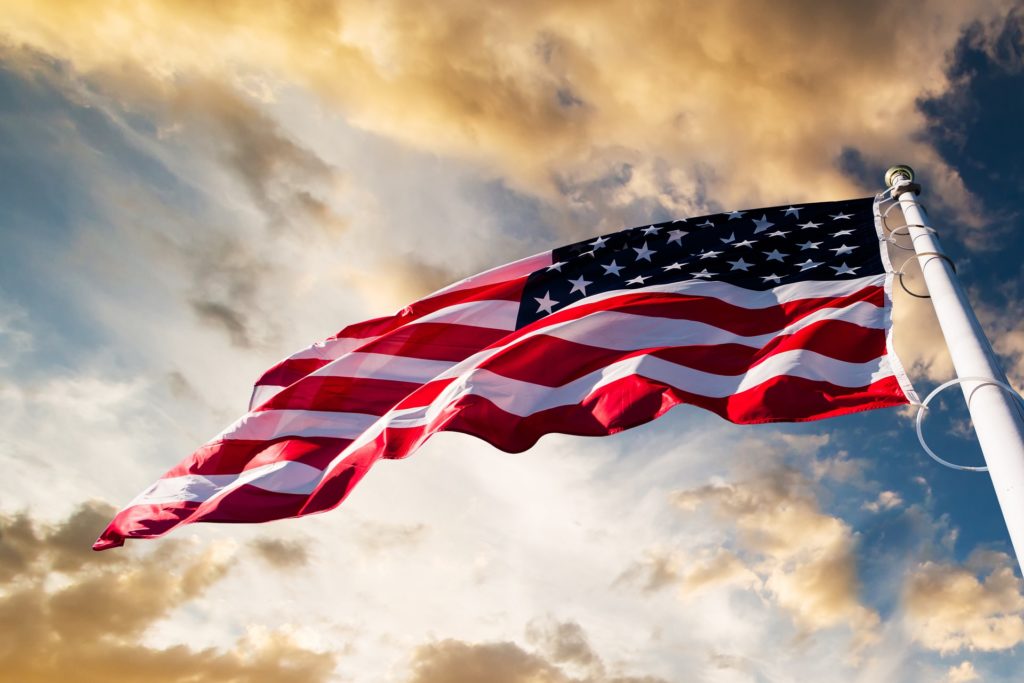 2021 was a year unlike any other. When we at Concerned Veterans for America announced our 2021 priorities, we couldn't have imagined the hurdles that would arise or the issues our nation would face.
Despite these challenges, our mission — to continue serving the country we fought for in uniform — guided the work we carried out alongside our activists.
Our grassroots army of veterans and military families lent their voices and experiences to call for change in America's foreign policy and reforms to a troubled veterans' health care system.
Here is a look back at some of the things we accomplished thanks to the hard work and dedication of veterans and advocates around the country.
End of military engagement in Afghanistan after 20 years
One of the most significant events for America this year was the end of military engagement in Afghanistan. The United States and its allies pulled troops from the country just weeks before the 20th anniversary of the attacks of September 11, 2001.
CVA has long advocated withdrawal from Afghanistan and entanglements across the Middle East. In 2021, CVA empowered volunteers and activists to send nearly 140,000 letters to lawmakers calling for an end to endless wars. We saw President Joe Biden respond to the national call for change when he followed through with his commitment to bring troops home from Afghanistan.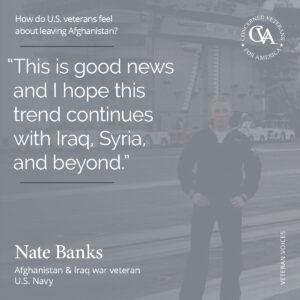 Afghanistan veterans shared their thoughts on 20 years of war coming to an end
Implementation of the withdrawal was far from ideal, and Afghanistan veterans were justifiably angry as they watched the war come to a tragic end, one which underscored the flaws of nation-building efforts.
But withdrawal was still the right decision, and lawmakers must now look now to accountability for both the withdrawal from Afghanistan and the war as a whole.
We will be working to ensure there is accountability for the full 20 years of war in Afghanistan in the new year, something we've already started on by helping an Afghanistan War Commission proposal move forward in the 2022 National Defense Authorization Act.
Demanded accountability at the VA for keeping veterans away from community care
From the onset of the COVID-19 pandemic, CVA kept vigilant eyes on how the VA was managing veterans' medical appointments.
The number of canceled and delayed appointments was staggering, but more shocking was the VA's failure to abide by the VA MISSION Act.
Veterans are waiting weeks or months for community care. In some instances, they aren't getting access to it at all – according to investigative reports in Florida, Georgia, and California – despite the VA being required by law to provide non-VA options when wait times or drive times are too long, or best interest of the veteran dictates community care would be better.
What's more devastating, the VA is making concerted efforts to manipulate wait time data and keep patients inside the VA health care system. This is in direct violation of the law, and eerily reminiscent of what we saw in Phoenix in 2014.
Veterans call for change at the VA
CVA spent the year calling for the VA to adhere to the VA MISSION Act, and for accountability, including a freeze on VA officials' bonuses, when VA leadership doesn't follow the law. So far, CVA activists have sent more than 26,000 letters Washington calling for these reforms.
Veterans elevated their voices by sharing their VA experiences through MY VA Story
Veterans being denied care by the VA is disturbing. Each story represents an individual with unique health care needs. This year, we set out to ensure these individual veteran voices were being heard by relaunching our My VA Story platform. My VA Story gives veterans an opportunity to share their experiences at the VA, such as Dustin in Utah who told us "My experience with the VA has been eye opening. It has taught me that I can't rely on the VA to follow through with anything…I have zero trust in the VA."
We amplify these stories to call for reforms more effectively. The My VA Story platform is filled with stories from veterans around the country and always taking new submissions.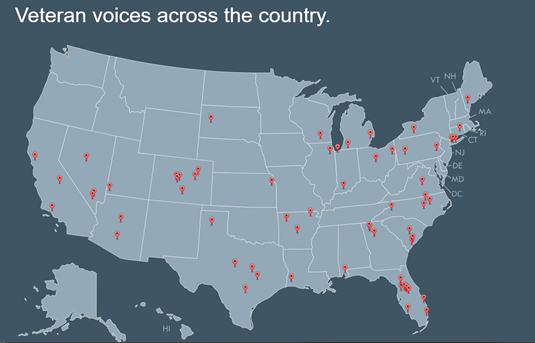 Veterans around the country are sharing their experiences at the VA
Our CVA staff also shared their stories of mistreatment and problems accessing care at VA facilities in Arizona, New Mexico, North Carolina, Nevada, and Texas. Their experiences represent just a taste of what veterans from all over the country are sharing.
Built stronger communities and helped those in need
CVA has a dedicated team around the country on the ground every day listening to veterans' stories, sharing experiences from war and the transition back to civilian life, educating about the country's most pressing issues, and building strong coalitions of veterans, military communities, and patriotic Americans that work for positive change.
We are especially proud of the work done by our sister organization Concerned Veterans for America Foundation to assist Afghan refugees who fled to the United States after the Taliban takeover of Afghanistan. In Wisconsin and Nevada, CVA Foundation collected and coordinated donations for Special Immigrant Visa holders on military bases.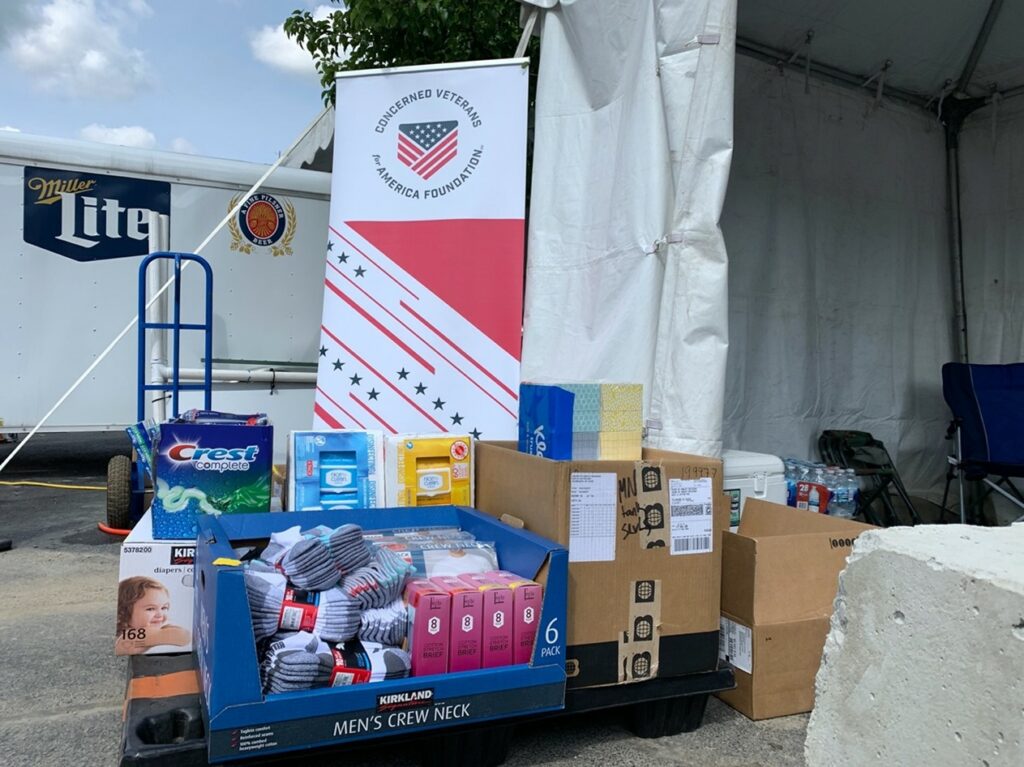 CVA Foundation provided new arrivals with the essentials and did a little extra work to make the children feel more at home.
Together, we accomplished so much this year for the veteran and military community and for the future of America. These achievements wouldn't have been possible without our dedicated grassroots army.
Thank you to all those who signed a letter, attended an event, shared their story, and gave their time and energy to serve veterans and this country.
We can't wait to see what we're going to accomplish together in 2022.