Arlington, VA – Today, Concerned Veterans for America (CVA) is releasing a digital video highlighting the challenges a Marine Corps veteran and Purple Heart recipient faced when seeking care at the VA after his service. Despite delays, he was unable to seek care outside of the department.
Ben Rangel, who served in the Marine Corps starting in 2004, was hit by an IED in Iraq and was subsequently awarded a Navy and Marine Corps Achievement Medal "V" for Valor for his actions in combat. He sought treatment at the VA a month after his service ended to seek physical therapy for his injury, but was not provided with timely care.
"I was told I had to wait eight months," says Rangel, Texas field director for CVA. "That was shocking to me that I gave eight years of my life to the Marine Corps, now I have to wait eight months just to receive care. Everything could have been avoided if they would have allowed me to receive the care that I needed, either at the VA or somewhere else. I think if the VA can't handle the volume of veterans, or the quality of care that veterans need, we should be able to go somewhere else."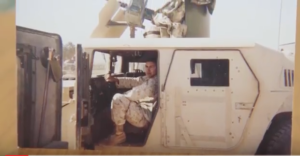 Rangel continues, "In the state of Texas, some places you travel 200 miles to the nearest VA and on the way, you pass eight hospitals. That could be avoided by allowing us to go somewhere else to seek the health care that we need. We need legislation to be able to change that."
The video is part of CVA's "My VA Story" series, which highlights the experiences veterans around the nation have had with the department. You can view CVA's last video with U.S. Army Green Beret Nate Anderson here.
Earlier this year, the Senate passed and President Trump signed a reauthorization and extension of the Veterans Choice Act, which was passed originally in 2014 as a quick fix to the wait list scandal at the VA in Phoenix. Unfortunately, the Veterans Choice Program has been poorly implemented and has not offered the veterans who qualify for it the real choice that the creators of the program envisioned.
CVA has proposed giving all veterans who qualify for VA health care the ability to use their benefits to access care in the private sector if they so choose while also restructuring the existing VA provider network into a government-chartered nonprofit corporation. These reforms would empower veterans and ensure they get better care – inside or outside of the VA.
###