Arlington, VA – Ahead of the Senate floor vote on the Supreme Court nomination this Friday, Concerned Veterans for America (CVA) is dropping the group's fourth and final pro-Gorsuch wave of direct mail in six targeted states nationwide, asking citizens to urge their Senators to confirm Judge Neil Gorsuch without delay. The mailers will hit markets in Colorado, Indiana, North Dakota, West Virginia, Missouri, and Montana, targeting Senators Bennet, Donnelly, Heitkamp, Manchin, McCaskill, and Tester, respectively.
Though Senators Manchin, Heitkamp, and Donnelly have already responded to CVA's grassroots pressure and stepped forward in support of Gorsuch, CVA will continue to remind them how their constituents feel about Gorsuch until the moment Gorsuch is confirmed.
Each piece of mail directs citizens to call a CVA switchboard where they are informed about Neil Gorsuch's record and then patched through to his or her Senator.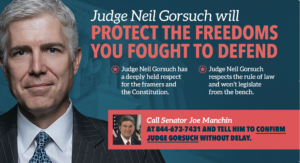 CVA mailer targeting Senator Manchin over Gorsuch's confirmation. 
CVA Executive Director Mark Lucas issued the following statement:
"Our grassroots army will remain active in this fight until the moment that the Senate confirms Gorsuch to the bench. We will continue pressuring Senators who are engaging in political theater to do the right thing, and we will continue reminding those who support Gorsuch just how strongly their constituents feel about seeing him confirmed on Friday."
CVA has made nearly 360,000 calls to constituents in eleven targeted states asking them to contact their Senator and urge them to confirm Gorsuch without delay. The group has also launched web ads, three previous waves of direct mail, and is promoting a digital tool which allows constituents to contact their Senators directly via Facebook, Twitter, and email.
###