Arlington, VA – Ahead of the expected Senate floor vote on the Supreme Court nomination this Friday, Concerned Veterans for America (CVA) is dropping a fourth and final pro-Gorsuch direct mail targeted at Senator Joe Manchin (D-WV).
Last week, Senator Manchin responded to pressure from CVA activists and announced that he will vote to confirm Judge Neil Gorsuch to the Supreme Court. Manchin cited his responsibility as an elected official and noted that Gorsuch is qualified, objective, and has received praise from both sides of the aisle.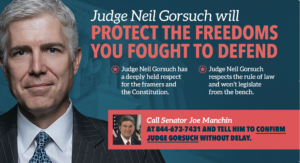 CVA mailer targeting Senator Manchin over Gorsuch's confirmation. 
CVA Executive Director Mark Lucas issued the following statement:
"We applaud Senator Manchin for pledging support for Gorsuch, but our activists will continue working tirelessly to ensure Manchin will do the right thing on Friday. Gorsuch's unparalleled experience and principled approach to interpreting the rule of law proves he will respect the Constitution that so many Americans veterans fought and sacrificed to defend. We urge all members of the Senate to put political theater aside, listen to their constituents, and make Judge Neil Gorsuch our next Supreme Court Justice later this week."
CVA has made over 10,000 calls to constituents in West Virginia, asking them to contact Senator Manchin in support of Gorsuch. The group has also launched web ads, three other waves of direct mail, and is promoting a digital tool which allows constituents to contact Senator Manchin directly via Facebook, Twitter, and email.
###