Arlington, VA – Ahead of the expected Senate floor vote on the Supreme Court nomination this Friday, Concerned Veterans for America (CVA) is dropping a fourth and final pro-Gorsuch direct mail intended to keep the pressure on Senator Joe Donnelly (D-IN).
This week Senator Donnelly announced his support for Supreme Court nominee Neil Gorsuch, stating that Gorsuch is "qualified" and "well-respected." Donnelly is the third Senate Democrat to openly support Gorsuch, following Senators Manchin (D-WV) and Heitkamp (D-ND).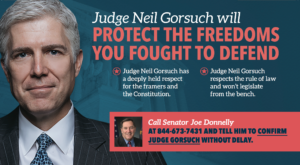 CVA mailer targeting Senator Donnelly over Gorsuch's confirmation. 
CVA Executive Director Mark Lucas issued the following statement:
"We're encouraged that our efforts to push Senator Donnelly to support Gorsuch are paying off, but we're going to keep the pressure on him until the moment Gorsuch is confirmed to the Supreme Court bench. We want to continue reminding Senator Donnelly just how strongly Hoosiers feel about having a Justice on the Supreme Court who will protect their liberties and respect the rule of law. We urge all members of the Senate to focus on Judge Gorsuch's qualifications to serve and avoid further political theater this Friday."
A new Huffington Post/YouGov poll shows Americans want Gorsuch confirmed by a 17-point margin.
CVA is engaged in a unique and unprecedented grassroots effort to help confirm Judge Neil Gorsuch to the Supreme Court bench. The group has made over 25,000 calls to constituents in Indiana, asking them to contact Senator Donnelly in support of Gorsuch. The group has also launched web ads, three other waves of direct mail, and is promoting a digital tool which allows constituents to contact Senator Donnelly directly via Facebook, Twitter, and email.
###