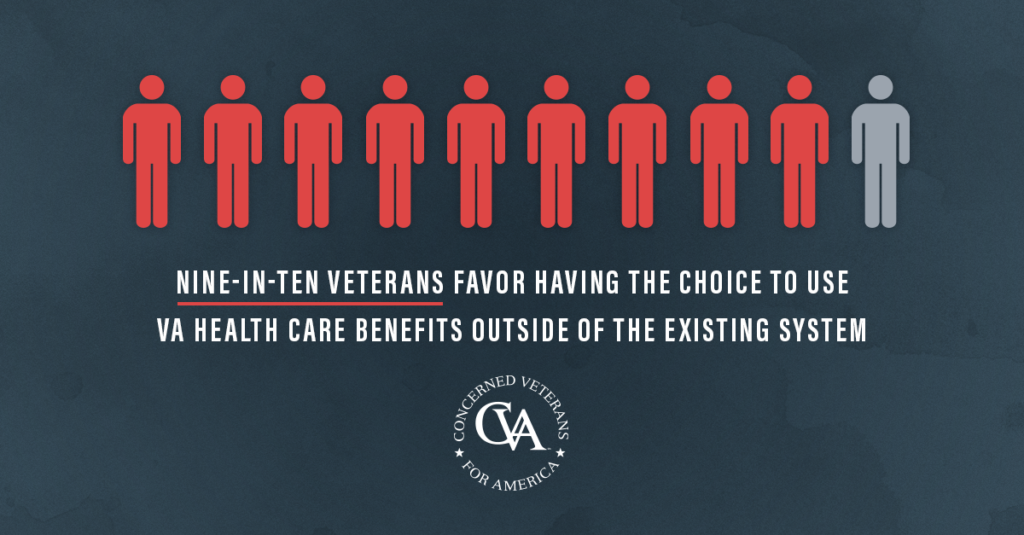 Concerned Veterans for America recently commissioned a survey asking veterans and military households their opinions on delivery of veterans' health care, foreign policy and federal spending.
Veterans and military families made it clear they support more access to care outside the Department of Veterans Affairs health care system.
A full 90% of veterans support being able to use VA benefits to access care in the community, as do 86% of military households.
CVA's survey also found that choice over health care is a truly bipartisan issue for veterans. Broken down by political parties, 93% of Republicans, 88% of Democrats and 86% of independents favor more choice for veterans.
CVA Executive Director Dan Caldwell had this to say about the survey:
The results are clear: veterans and military families support giving those who use the VA health care system the choice to use their benefits in the community. Elected officials looking to restrict policies that give veterans more health care choice, like the new VA MISSION Act access standards, stand in opposition to the will of the veteran community.
The survey also found that a majority (60%) of veterans and military families support removing troops from Afghanistan. An even larger majority (76% of veterans and 71% of military households) believe the national debt represents a threat to national security.
You can read the full survey results here.