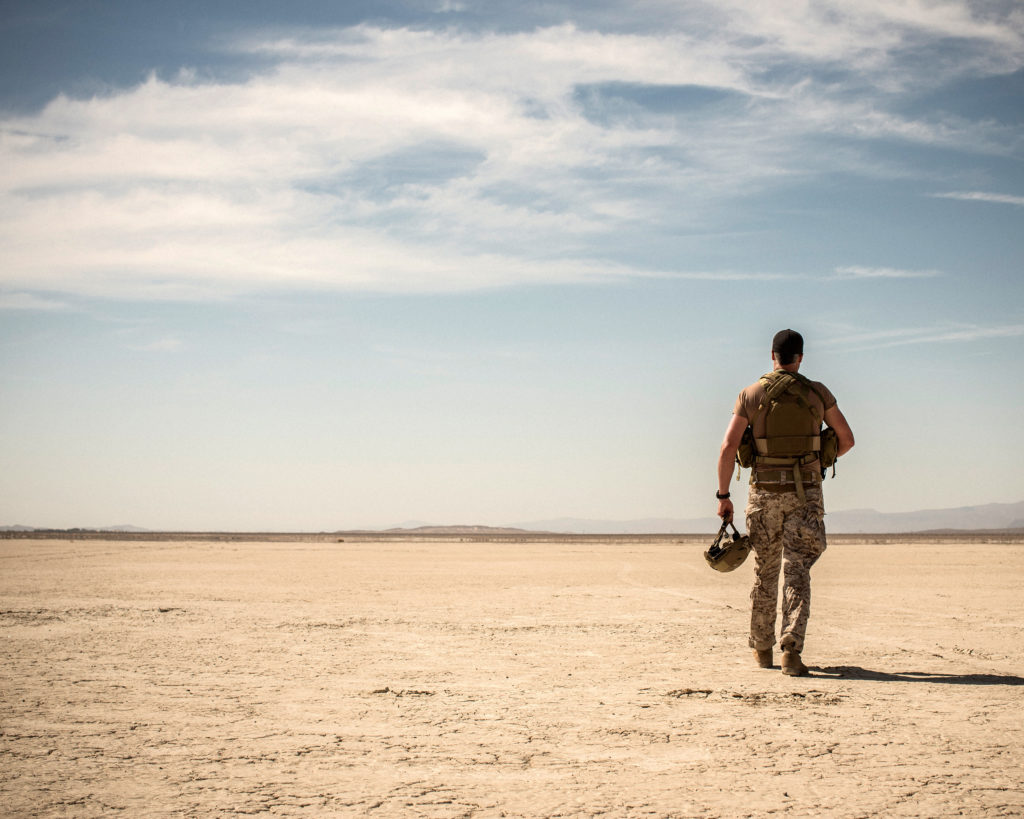 When we count the cost of war, we often talk in terms of defense dollars spent or combat injuries and deaths. The Global War on Terror, specifically efforts in Iraq and Afghanistan, has racked up high numbers in each of those categories: $6.4 trillion spent, more than 7,000 servicemembers killed, and tens of thousands more wounded.
But as engagements around the world continue, the cost of war in human life increases every day here at home.
Mental health struggles have become a "significant public health problem" amongst veterans of Iraq and Afghanistan according to the Department of Veterans Affairs (VA). Thousands of veterans cope with post-traumatic stress disorder, leading many down a path of alcohol or substance abuse or even suicide.
The VA's data show more than two in 10 veterans with PTSD also have substance abuse disorder. Amongst Iraq and Afghanistan veterans seen by the VA, one in 10 have a problem with alcohol or drugs. Nearly 17 veterans lose their lives to suicide every day, totaling more than 6,000 lost each year.
This face of the war, the invisible wounds and struggle to survive at home, is not as often seen or talked about, but has become all-too-common occurrence among veterans of Iraq and Afghanistan. Jacquelyne Wesch has seen it with her own eyes.
A slow decline
Jacquelyne met Brandon, a veteran of the Army's famed 82nd Airborne, while both were in college in 2011. They began a relationship and welcomed a daughter, Lily, a year later.
After leaving the Army in 2008, Brandon struggled with his transition to civilian life. He had sustained injuries during his deployment to Iraq in 2006 and 2007, including a traumatic brain injury and was later diagnosed with post-traumatic stress disorder. He battled with the VA for years, trying to get the care and resources he needed to cope with his injuries.
"I could see it in him," Jacquelyne recalls of Brandon's declining mental health. "And his family, because they remembered him prior to the military and deployment, they could see a decline in him."
Sadly, Brandon's mental health continued to deteriorate over the next few years. Several years after a suicide attempt, Brandon lost his life in an accidental drug overdose in 2016, nearly 10 years after his deployment to Iraq. Later, the VA would deem Brandon's death related to his service-connected disabilities.
"It was probably the hardest thing I've ever experienced in my life," Jacquelyne says. "I felt like a bright light was dimmed out."
'Not just the feel-good stories'
Jacquelyne and Brandon were no longer in a relationship when Brandon died, but she still lives with his absence every day as she raises Lily, who was just turning four when Brandon passed away.
"Nobody's talking about what happens when they survive the war but not the homecoming," Jacquelyne says of those veterans who struggle with physical and mental injuries after deployments. "It's not just the feel-good stories that you see. That is not everybody's ending. The story for my daughter isn't that on Veterans Day she gets to take her dad to school and have breakfast with him. This past year, she took a picture. She visits her dad in a national cemetery."
Although Jacquelyne and Lily have struggled to come to terms with Brandon's death, Jacquelyne thinks of those who aren't in the position they are in. "We built a great life, but not everybody has those stories. What about all these kids whose surviving parent is just trying to make it."
Too many families experience what Jacquelyne and Lily went through, trying to rebuild their lives after losing a loved one.
Spreading awareness in the wake of tragedy
The tragedy Jacquelyne's family experienced is a testament to what years and years of war and thousands of deployments have caused. She lives with a consequence of those wars every day. The length of the war in Afghanistan especially has caused Jacquelyne to share her story and call for an end to U.S. involvement.
"When [troops] are over there unnecessarily, it's bound to create an abundance of people who struggle with their mental health or physical health," Jacquelyne says. "The repercussions of endless wars is that my daughter won't have any real memory of [her dad]."
Recently, Jacquelyne and her family have gotten involved with Concerned Veterans for America's End Endless Wars campaign. The effort draws attention to the nearly two decades of constant war, and the cost of those wars that veterans and their families continue to pay.
"Now that my daughter is older and able to formulate her own thoughts and ask questions … it's really putting so much into perspective for me," Jacquelyne says.
After nearly 20 years of combat and deployments in Iraq and Afghanistan, the cost of those wars is too often thought of in incomprehensible numbers and statistics. We still have more than 10,000 troops deployed between Iraq and Afghanistan. These men and women stand in harm's way each day, unsure if they will make it home and survive the homecoming.
Every life lost, whether on the battle field or here at home, represents a family that will never be the same. It's time to end our endless wars.
Learn more at endendlesswars.com
Veterans experiencing mental health emergencies, you can contact the Veteran Crisis Line at 1-800-273-8255. Veterans, troops or family members can also text 838255 or visit VeteransCrisisLine.net for assistance and resources.