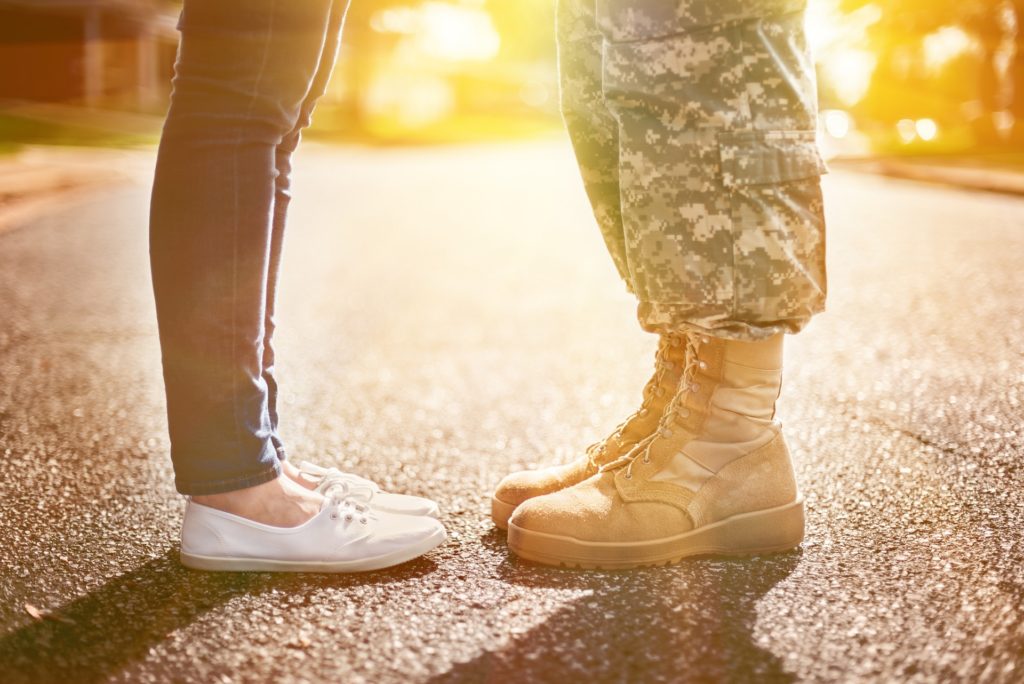 When we think about military service, our minds naturally go to soldiers at attention in uniform, far away bases in deserts or jungles, or old veterans swapping war stories.
But service to our country affects more than the women and men who put on the uniform. The families, specifically the spouses, bear a unique burden that is part of the cost of freedom.
Military spouses keep everything going during long workdays and longer deployments. They learn the ins and outs of military life, they speak the military language, they often act as a sounding board for challenges far above their paygrades, and they experience the challenges their veterans face after military service.
In short, military spouses enlist for a special role when they marry servicemembers or veterans.
Laura Hechel and Elizabeth Chatham have both lived this unique life as wives of Army veterans. We asked them a few questions about their experiences, their memories, and their advice for other military spouses.
Q: How did you meet your husband?
EC: I met my husband at a low-country boil. Neither of us had planned on being there, so it felt like fate had us meet. My husband is an Army veteran who served three combat deployments. My father was in the Navy and my brother was in the Marine Corps, so I was well prepared to marry a veteran. We just celebrated our third wedding anniversary this week.
LH: My husband Chuck and I met in the Army during language training in California. He was a Persian Farsi linguist, and I was a Russian linguist. All our first memories together were against a military backdrop as we were being stationed at different bases around the country. After we eloped, we spent most of the first year and a half of marriage apart, as he had a stateside assignment and I was already stationed in Germany. Chuck left the Army a year after we got married, and I left a year after that, so we both spent time being both the soldier and the military spouse.
Q: What have been the positives and the challenges of marriage to a soldier or veteran?
EC: I met my husband after his military service, and we have faced the good and the bad that comes with choosing the military life. We've faced challenges as my husband has transitioned back into civilian life and journeyed through the aftermath of combat deployments. It's difficult to watch someone you love go through these battles, especially after their actual service is over. But I feel such immense pride in knowing my husband made the sacrifices he did in service to the country.
LH: Being a military spouse was almost like not being married at all. We were more like roommates in those early days because of our schedules. But what I most appreciated about my husband back then was that he understood the general nature of my job and that I could never ever discuss it. We both had jobs that required secrecy and knew not talking about it came with the territory. To some civilians, this would really be an issue. But we had the benefit of understanding that the other just couldn't share those things.
Q: What role do spouses play in the military community?
EC: Military spouses play such an important part in the lives of their husbands and wives, but also in the wider military community. There is a tight-knit bond for those of us in this community and we always strive to have each other's backs and be supportive.
LH: I was never the person solely taking care of the home while in the service, but I met enough military spouses to know they are generally the solid foundations that keep soldiers feeling secure and stable. They are the one person who is always there through all the moves, storms that life brings, shifting roles and responsibilities, holding the family together. They are the bedrock on which military communities are built and the reason military communities thrive.
Military spouses serve one of the most important purposes on post that is almost never discussed: They are often frontline mental health support to their soldier. That was the case with my husband. He was the person who noticed that I was struggling, who gently urged me to get help, and who supported me through my healing journey. That is the difference a military spouse can make.
Q: What advice would you give someone who is going to marry into the military?
EC: You need to be prepared to be flexible, as the military career is demanding. You may often come second. You should make sure you have strong communications skills as the military life takes a toll on marriages. You should also try to connect with like-minded people at each duty station to share your struggles and create a support system.
LH:  Become comfortable with being by yourself. The military often works long, demanding days and schedules can be unpredictable. Your spouse might deploy or be sent to temporary duty assignments. And they cannot always talk about their job. Involve yourself in activities that bring you joy because being alone doesn't mean you need to feel lonely.
Are you a military or veteran spouse? Share your story with us on Facebook.