Phoenix, AZ–  Tomorrow, Concerned Veterans for America (CVA) will host a Facebook Live event with original Phoenix VA whistleblower Brandon Coleman to explore why the Phoenix VA is still failing, over two years after the initial wait list scandals broke there in 2014.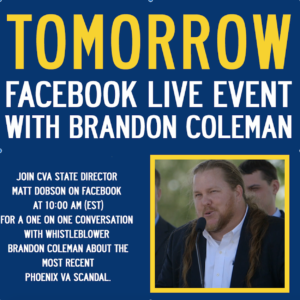 WHO: CVA Arizona State Director Matt Dobson and the original Phoenix VA whistleblower Brandon Coleman.
WHAT:  Why has the Phoenix VA continued to be mired in scandal? Why aren't whistleblowers protected? When will the VA be held accountable?
WHEN: Tomorrow, Tuesday, October 25, at 10:00 a.m. EST
WHY: More than two years after the Phoenix VA scandal rocked the nation, many veterans still aren't getting proper care. What's worse, problems at the Phoenix VA, and VA hospitals all across the nation have actually gotten worse.
WHERE: The event will only be available on Facebook Live, we will post a link to the live video on Tuesday morning.
This month alone, at the Phoenix VA:
###