Albuquerque, NM – Concerned Veterans for America (CVA) is launching a direct mail campaign urging New Mexicans to oppose Secretary of State Maggie Toulouse Oliver's proposed rule that circumvents the legislative process to limit citizens' First Amendment rights. If implemented, the measure would put New Mexicans' personal information – including names, addresses, and other details – on a government registry and make public the causes they privately support.
The mailers ask New Mexicans to contact Secretary Oliver with a digital tool that allows them to call or email her office in opposition to this anti-free speech measure.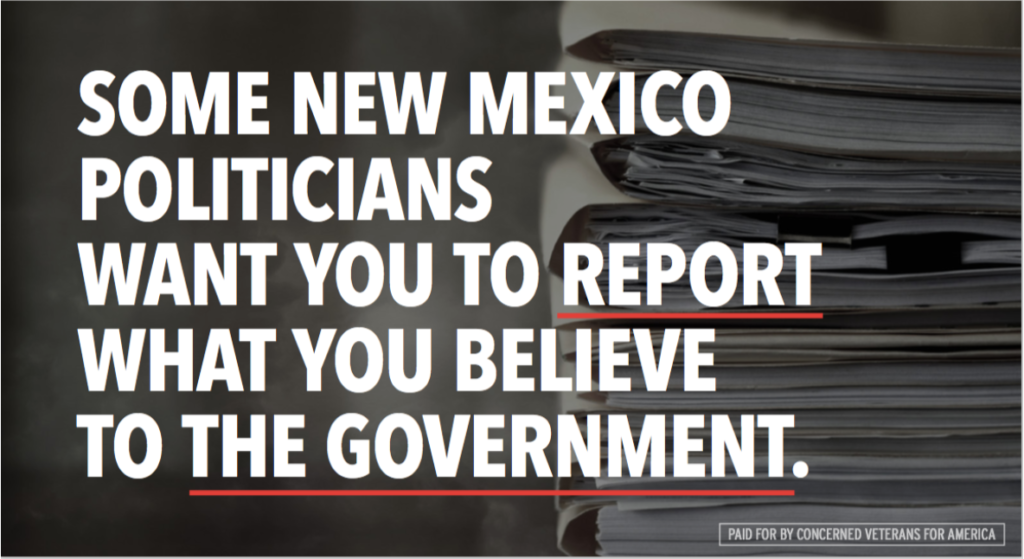 View the mail piece by clicking here.
CVA Policy Director Dan Caldwell issued the following statement: 
"Forcing New Mexicans to report their beliefs to state government officials would have a chilling effect on free speech in the state. No one should fear harassment or intimidation just because they choose to support a non-profit or charitable organization. Governor Martinez was right to oppose an earlier anti-free speech measure, S.B. 96, because the legislation would have violated the First Amendment rights of New Mexicans. We urge citizens to tell Secretary Oliver to stop circumventing the legislative process in yet another attempt to silence people."
Governor Martinez vetoed S.B. 96, a similar anti-free speech measure that passed the legislature in April. CVA led a coalition of eleven different organizations and sent a letter to Governor Martinez asking her to reject the measure. The group also launched a targeted digital campaign, including a tool which allowed New Mexico constituents to contact Governor Martinez directly via email, Facebook, Twitter, and phone to warn her about the dangers of S.B. 96.
Earlier last year, CVA started "Defend the First," a project dedicated to beating back threats against free speech at the state and federal level.
###