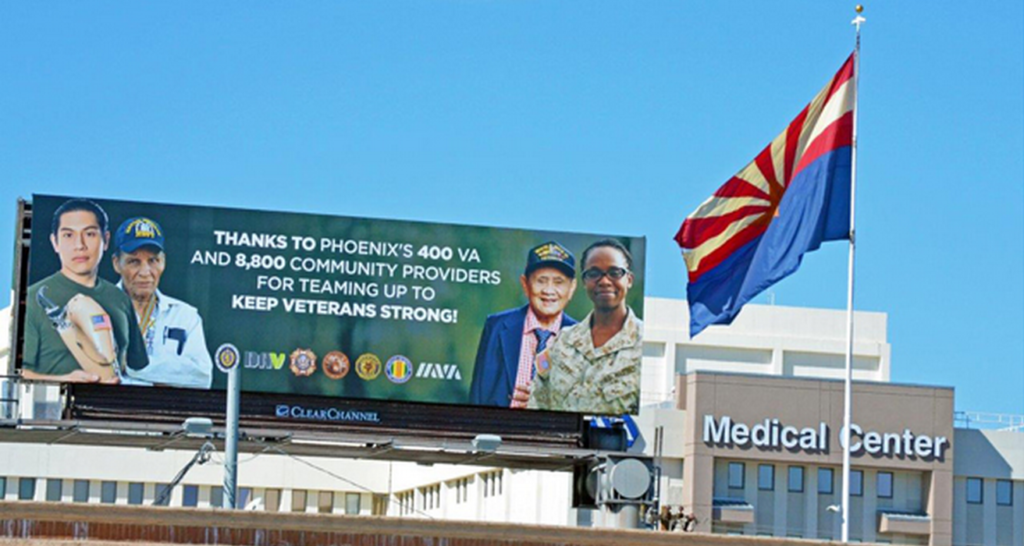 Phoenix, AZ — New, unironic billboards have been put up outside of the Department of Veterans Affairs (VA) in Phoenix, thanking the VA for "keep[ing] veterans strong." The billboards – which do not appear to be a joke – come in light of a new wave of controversy at the scandal-plagued Phoenix VA.
This month alone, at the Phoenix VA:
 an VA Inspector General report that 

confirmed

 that hundreds of veterans are still dying waiting for care
 a 

controversial new director

 was appointed – Rima Ann Nelson previously oversaw the St. Louis VA, which received poor ratings from patients and weathered medical safety issues under her leadership
 Deputy Secretary Sloan Gibson 

confirmed

 that the Phoenix VA awarded itself an extra $54 million this year, on top of its existing $703 million budget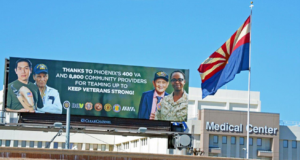 Photo credit: AZ Business Magazine
The billboard reads: "Thanks to Phoenix's 400 VA and 8,800 community providers for teaming up to keep veterans strong!"
Concerned Veterans for America Arizona State Director Matt Dobson issued the following statement:
"This reminds me of when VA Secretary Bob McDonald compared wait times at the VA to wait times for rides at Disneyland. Thanking any Phoenix VA facility for keeping veterans strong after it was just revealed that veterans are still dying waiting for care there is completely tone deaf. It's our veterans, who continue to suffer despite having sacrificed their lives for this country, who should be thanked.
"To this day, there are still people who want to deny that the VA is failing, and it's preventing meaningful reform from passing in Congress. It's more important than ever to shed light on the truth and urge our elected officials to take action."
Next Tuesday, CVA will host a Facebook Live event with original Phoenix VA whistleblower Brandon Coleman to explore why the Phoenix VA is still failing, over two years after the initial wait list scandals broke there in 2014.  
###