ARLINGTON, Va.— Concerned Veterans for America (CVA) on Tuesday announced the launch of a high-six-figure national ad campaign aimed at bringing our troops home from Afghanistan and urging Washington to begin ending our nation's "endless wars."
"Americans have had enough of the war in Afghanistan. This conflict has persisted for nearly two decades, costing taxpayers trillions of dollars, and robbing thousands of families of their loved ones," said Nate Anderson, CVA Executive Director. "The policy of endless war is costly beyond measure, and it is leaving too many Americans behind. Washington needs to hear these concerns and have the courage to lead our nation's foreign policy in a better direction."
The campaign comes as President Trump has begun to bring U.S. troops home from the country, with plans to reduce troop levels to roughly 4,000 by the fall. Meanwhile, the House of Representatives this week is set to begin debating the National Defense Authorization Act, including a provision that would tie the president's hands and potentially keep troops in Afghanistan indefinitely. This measure was met with opposition from a bipartisan group of lawmakers who agree we should no longer be in Afghanistan, teeing up the debate over our troops' future.
"The Washington status quo is dangerous and irresponsible," Anderson continued. "Our presence in Afghanistan no longer serves our national interest and leaving our troops in Afghanistan makes them easy targets for our adversaries – be they Iran, Russia, or non-state actors. The American people don't want their sons, daughters, brothers, sisters, and loved ones fighting in an unnecessary war."
The national ad campaign urges activists to "tell Washington to leave no one behind" in Afghanistan and highlights the dilemma of those still deployed in the country: "how much longer will this go on?"
With roughly 8,600 still deployed in Afghanistan, and heightened tensions in the region, Anderson says it is now more important than ever to get serious about finding a better American foreign policy – one that prioritizes our military and defense of our nation, but uses military force as a last resort and only when it is critical to our safety and conditions of our economic prosperity.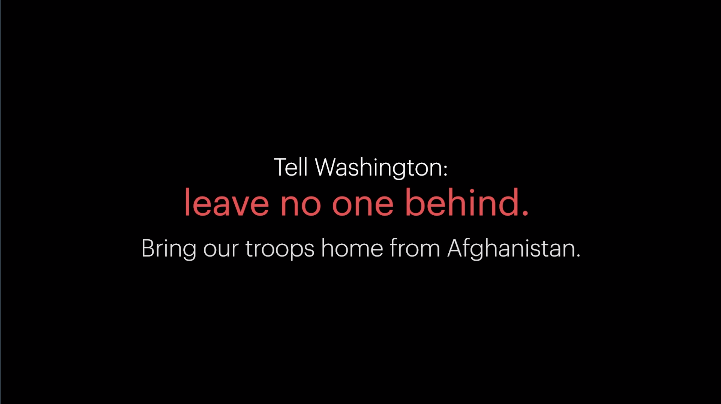 (click the image above to watch the campaign video)
The ad urges the viewer to visit endendlesswars.com where they can sign and send a letter to their lawmakers in Washington urging an end to the war.
The campaign will run on digital platforms nationwide through Labor Day. CVA will complement the campaign with robust grassroots advocacy efforts, taking its message directly to veterans, military families, patriotic Americans, and our leaders in Washington.
This effort is a continuation of CVA's End Endless Wars campaign, which the group launched last year to reorient America's foreign policy, make the case for a withdrawal of American troops from places like Afghanistan and Syria, and put an end to our country's longest war.
###