Veterans group praises lawmakers for voting to repeal outdated law perpetuating 'forever wars'
ARLINGTON, Va.—In the first wave of a new digital ad campaign launched Wednesday, Concerned Veterans for America (CVA) is urging Americans to thank principled lawmakers for their recent votes to reassert Congress's constitutional role in matters of war and peace.
The digital ads commend lawmakers for giving the American people a voice in matters of war and peace by repealing the 2002 Authorization for the Use of Military Force (AUMF), an outdated measure that has been the justification for keeping troops in Iraq for 18 years and counting. The digital ads will be complemented by direct mail and grassroots efforts.
CVA Deputy Director, Russ Duerstine, had this to say about the effort:
"After almost two decades of fighting, Americans are tired of seeing our men and women in uniform continuously deploying to fight ill-advised and misguided wars. We applaud the principled stances of those members who voted to repeal one of the outdated authorizations that have in part been used to justify American involvement in our endless wars. We stand ready and will continue to support those who stand with us and the American public to forge a better U.S. foreign policy and put an end to endless wars."
The ads will run in the lawmakers' districts/states and inform constituents that their lawmaker is leading on this issue. Citizens have the opportunity to encourage their lawmaker and ask for their continued commitment in rethinking foreign policy and putting an end to endless wars.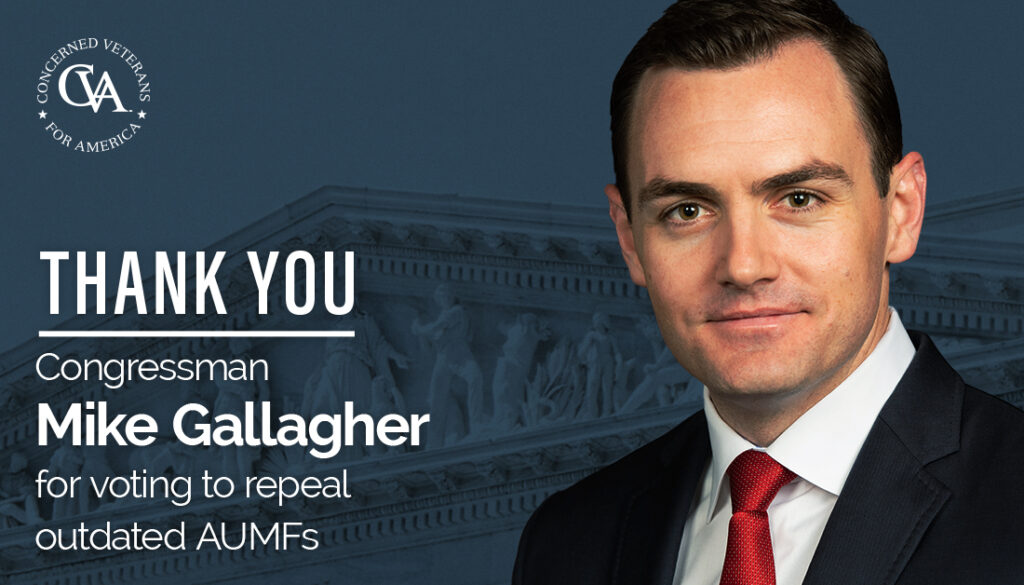 (click for downloadable version)
The 20 Representatives selected for the first wave of this effort were chosen for their willingness to challenge the status quo and work across the aisle to support efforts to advance a better foreign policy for all Americans. The members targeted by the ad campaign are: Reps. Barbara Lee (CA-13), Mike Gallagher (WI-8),  Ro Khanna (CA-17), Tom Tiffany (WI-7), Mark Pocan (WI-2), Andy Biggs (AZ-5), Peter Meijer (MI-3), Thomas Massie (KY-4), Nancy Mace (SC-1), Ken Buck (CO-4), Chip Roy (TX-21), Byron Donalds (FL-19), Alex Mooney (WV-2), Bob Good (VA-5), Greg Steube (FL-17), Matt Rosendale (MT-AL), Warren Davidson (OH-8), Michael Cloud (TX-27), Jim Jordan (OH-4), and Morgan Griffith (VA-9).
BACKGROUND:
Americans for Prosperity, a partner of CVA, issued a Key Vote Alert for this measure, signaling it will take into account lawmakers' votes in its annual legislative scorecard.
CVA recently led a coalition in sending a letter to members of Congress urging support of a bipartisan resolution introduced by Sens. Kaine and Young to repeal a pair of obsolete AUMFs. The group was joined on the letter by Defense Priorities Initiative, FreedomWorks, and the R Street institute.
CVA has been working to repeal the outdated 2001 and 2002 AUMFs for years, making it a priority for its grassroots and advocacy efforts in its annual policy agendas (2019, 2020, 2021).  Notably, though less than a fifth of current members of Congress voted on the 2001 AUMF, it has been invoked to justify 41 operations in 19 countries since passage.
In 2019, the group partnered with VoteVets, a traditional rival, to urge lawmakers to reclaim their constitutional war powers duties. The New York Times wrote about the unlikely partnership. Setting the example for lawmakers and the administration, the groups found common ground on this issue and flew activists and volunteers in to DC to meet with their members of Congress to bring some real, lasting policy change in Washington.
CVA has been staunch in its support of lawmakers who have taken a principled stand and worked to repeal these measures in the past. In 2019, CVA welcomed the addition of the bipartisan War Powers Caucus to Congress, applauding lawmakers for prioritizing the issue. CVA also launched a digital ad campaign thanking lawmakers for standing against endless war, praising lawmakers for voting to ensure proper Congressional input before any offensive military force against Iran.
###