Albuquerque, NM – Today Concerned Veterans for America (CVA) released a web ad urging New Mexicans to help stop an attempt by the New Mexico Secretary of State to limit their First Amendment rights. The video is being released the same week as hearings on the issue are set to begin in Santa Fe, Albuquerque, and Las Cruces. CVA has activists who plan to attend the hearings and voice their opposition to this attack on free speech.
"We fought to defend free speech. But now, New Mexico Secretary of State Maggie Toulouse Oliver is going around elected officials to limit free speech in our state," the ad states. The ad then prompts viewers to visit a page on CVA's website where they can contact their elected officials to oppose Secretary of State Maggie Toulouse Oliver's proposed anti-free speech measure.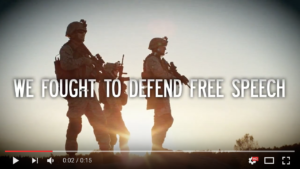 Concerned Veterans for America (CVA) Policy Director Dan Caldwell issued the following statement: 
"The First Amendment is one of the fundamental freedoms veterans sacrificed to defend, so it's troubling to see it threatened by our own government here at home. If Secretary Oliver's new rule is enacted, people will lose the ability to support causes freely without fear of intimidation or harassment. This proposal must be stopped, and we encourage New Mexicans to take action today."
CVA released a coalition letter urging the Secretary of State to abandon her measure. The letter has been signed by 29 individuals representing 14 different organizations who share a common goal of protecting free speech in New Mexico. Former New Mexico Governor Gary Johnson is among the signers.
CVA recently launched a mail campaign urging New Mexicans to contact Secretary Oliver with a digital tool that allows them to call or email her office in opposition to this anti-free speech measure.
Governor Martinez vetoed S.B. 96, a similar anti-free speech measure that passed the legislature in April. CVA led a coalition of 11 different organizations and sent a letter to Governor Martinez asking her to reject the measure. The group also launched a targeted digital campaign, including a tool which allowed New Mexico constituents to contact Governor Martinez directly via email, Facebook, Twitter, and phone to warn her about the dangers of S.B. 96.
Earlier last year, CVA started "Defend the First," a project dedicated to beating back threats against free speech at the state and federal level.
###