Arlington, VA – Today, Concerned Veterans for America (CVA) is launching a targeted campaign urging members of the House of Representatives to support the newly-introduced VA Accountability First Act of 2017.
The group is releasing a national web ad as well as targeted web ads directed at the constituents of thirty House members nationwide. All of the ads ask citizens to call their representatives and ask them to support the bill.
"Fraud. Abuse. Veterans dying on wait lists. American heroes deserve better, but our veterans are suffering at the hands of bad VA employees," the ad narrator says. "Congress can change it by passing the VA Accountability First Act of 2017. New reforms that will hold bad employees accountable and cut undeserved bonuses. Reforms that get bad VA employees out – for good."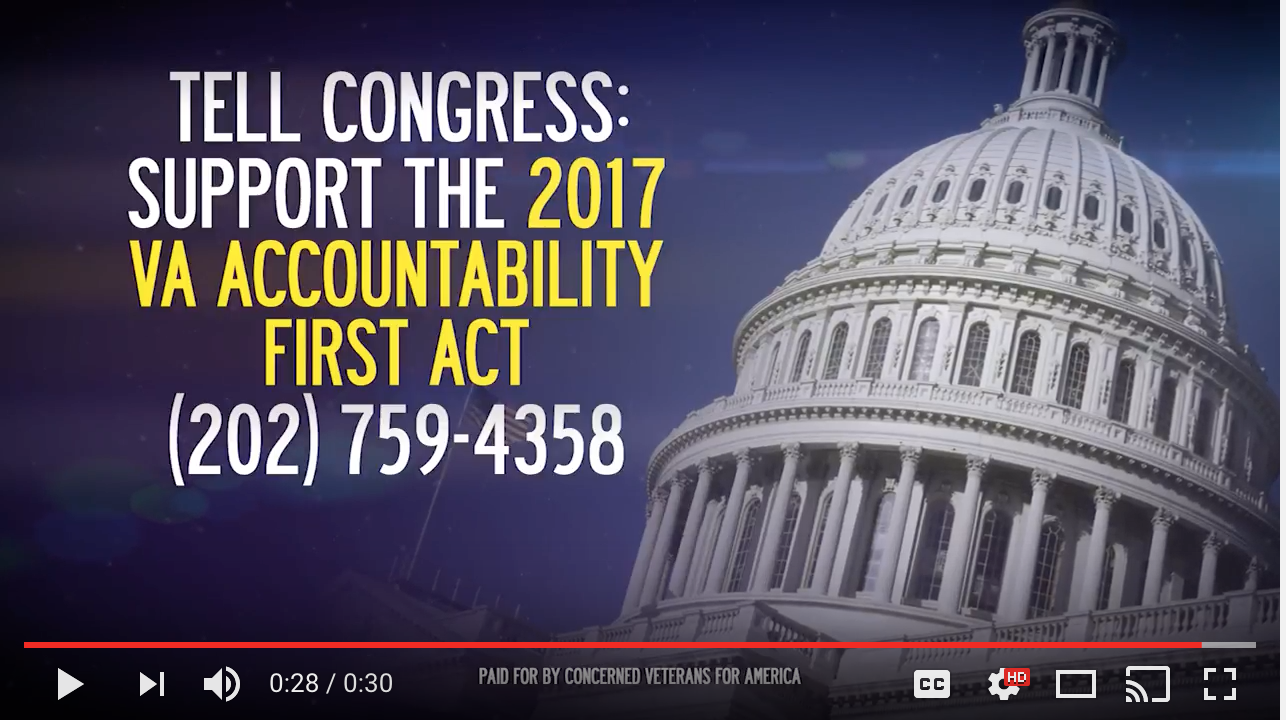 National CVA web ad asking concerned citizens to contact their representative in support of the VA Accountability First Act of 2017.
Targeted representatives include members like Rep. Ann Kuster (D-NH), Rep. Scott Peters (D-CA), and Rep. Tim Walz (D-MN), who serve on the House Veterans Affairs Committee, as well as members such as Rep. Krysten Sinema (D-AZ), Rep. Tulsi Gabbard (D-HI), and Rep. Ami Bera (D-CA), who voted in support of similar accountability measures in the past.
CVA is also launching a digital tool which allows constituents to contact their elected officials via email, Twitter, Facebook, and patch-thru phone calls in support of the VA Accountability First Act of 2017.
CVA Policy Director Dan Caldwell issued the following statement:
"It has been nearly three years since the VA wait list scandal began, and to this day, reports are still emerging about VA employees purposefully manipulating scheduling data at facilities across the country. It is unacceptable that there is still such a lack of accountability within the VA, and Congress needs to take immediate action to prevent bad employees from further putting the lives of veterans at risk. The VA Accountability First Act of 2017 would make it easier to fire employees who engage in misconduct and give the new VA Secretary the tools he needs to improve the troubled department. Veterans deserve the highest standard of care possible, and right now, our government is failing them. We urge members of Congress to pass this critical bill through the House without delay."
Rep. Phil Roe (R-TN) introduced the VA Accountability First Act of 2017 last week, and Senator Marco Rubio (R-FL) introduced Senate version of the bill soon thereafter.
The 2017 VA Accountability First Act would drastically shorten the overall termination and appeals process for Department of Veterans Affairs (VA) employees who are found to have engaged in misconduct. Currently, that process can take months or even years. The bill also empowers the VA Secretary to recoup bonuses awarded in error or given to employees who were later found to have engaged in misconduct. Additionally, the bill gives the VA Secretary the ability to reduce the pensions of VA employees who are convicted of felonies that influenced their job performance.
The VA Accountability First Act of 2017 also contains language that ensures that these new powers for the VA Secretary cannot be used against whistleblowers who speak up about wrongdoings at the VA.
Last week, the Office of the Inspector General (OIG) revealed that dozens of VA facilities in North Carolina and Virginia have been vastly under-reporting the length of time veterans wait to see their doctors.
###