Arlington, VA – Today Concerned Veterans for America (CVA) is out with four new digital ads in Nevada, Pennsylvania, and Florida, in a six-figure buy spread across the three states.
Three of the ads highlight the records of Rep. Joe Heck (R-NV), Senator Pat Toomey (R-PA), and Senator Marco Rubio (R-FL) on leading the charge for meaningful reform at the Department of Veterans Affairs (VA) and supporting the VA Accountability Act – a bill that would make it easier to fire bad VA employees.
A fourth ad highlights Rep. Patrick Murphy (D-FL) and his vote against the VA Accountability Act.
"Service" features Air Force veteran Ken G., who served in the U.S. Air Force and the Nevada Air National Guard. "There is a lack of being held accountable, and also holding people accountable [at the VA]," says Ken. "Joe Heck, as a brigadier general, a doctor, and a Congressman, is very well-suited to fight for real solutions for our veterans."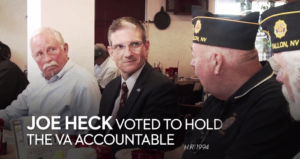 Click here to watch the ad.
"Out Front" features Sergeant Jedidiah Johnson, a U.S. Army veteran who lost a close friend due to the systemic problems within the VA. "They told him, 'We'll call you back when we have a bed.' A week later, we lost him," says Sgt. Johnson. "Pat Toomey actually fought for us when the VA was letting us down."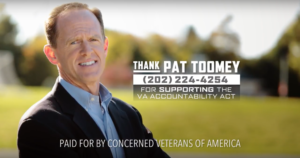 Click here to watch the ad.
"A Voice for Veterans" features Matt Eversmann, a U.S. Army Ranger who fought in the Battle of Mogadishu and who was featured prominently in Black Hawk Down. "When [the VA] fails, a veteran pays the price," Matt says. "Marco Rubio is leading the charge to fix the VA." 
Click here to watch the ad.
"Abandoned" features a Vietnam veteran named Bob Martin who served in the late 1960's. "Veterans should not have to wait for care in a system that was designed to provide them care," Bob says. "Patrick Murphy voted against VA accountability. That's wrong."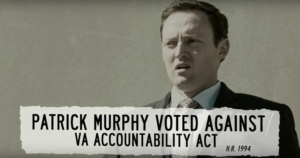 Click here to watch the ad.
Concerned Veterans for America Vice President of Policy and Communications Dan Caldwell issued the following statement:
"Veterans deserve to know where their elected leaders stand on legislation that is essential to reforming and fixing the VA. For years, CVA has been unafraid to hold elected officials accountable for their records on VA reform, and we will continue to do so in 2016 and beyond."
Earlier this year, CVA launched a $700,000 TV and digital ad campaign in Nevada highlighting Rep. Heck's consistent support for reforming the broken VA. In July of 2015, CVA ran a $1.5 million TV, digital video and direct mail campaign in Pennsylvania thanking Sen. Toomey for his commitment to getting veterans the care and benefits they deserve and for fighting to hold the VA accountable for its failures.
For questions and media inquiries, please contact press@cv4a.org.
###