Arlington, VA – As the Senate Judiciary Committee continues hearings on Supreme Court nominee Neil Gorsuch this week, Concerned Veterans for America (CVA) is dropping the group's second pro-Gorsuch wave of direct mail in eight targeted states nationwide, asking citizens to urge their Senators to confirm Judge Neil Gorsuch without delay. The mailers will hit markets in Colorado, Indiana, North Dakota, Maine, West Virginia, Missouri, Florida, and Montana, targeting Senators Bennet, Donnelly, Heitkamp, King, Manchin, McCaskill, Nelson, and Tester, respectively.
Each piece of mail directs citizens to call a CVA switchboard where they are informed about Neil Gorsuch's record and then patched through to his or her Senator. So far these Senators have failed to publicly support Gorsuch's Supreme Court nomination, despite intense constituent pressure.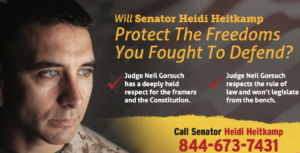 CVA mailer directing veterans and military family members in North Dakota to urge Senator Heitkamp to confirm Judge Gorsuch without delay.
CVA Executive Director Mark Lucas issued the following statement:
"This week Judge Neil Gorsuch has continued to demonstrate the kind of integrity, independence, and neutrality before the law that he will bring to the Supreme Court bench if he is confirmed. Gorsuch's dedication to protecting the Constitution has garnered the respect of political leaders on both sides of the aisle and Americans of all walks of life who are stepping out every day in his support. Since Gorsuch was announced as our next Supreme Court nominee, CVA has been mobilizing our grassroots army in this fight – and we will continue doing so until the moment that the Senate has confirmed Gorsuch to the bench. We urge the Senate to avoid political theatre this week and make this hearing process thorough, quick, and clean."  
Last month, CVA launched its first wave of direct mail in seven targeted states.
CVA is engaged in a unique and unprecedented grassroots effort to help confirm Judge Neil Gorsuch to the Supreme Court bench. The group has made over 300,000 calls to constituents in eleven targeted states asking them to contact their Senator and urge them to confirm Gorsuch without delay. The group has also launched web ads and is promoting a digital tool which allows constituents to contact their Senators directly via Facebook, Twitter, and email.
###