Arlington, VA – Today, Concerned Veterans for America launched a new web video explaining the group's opposition to the Veterans First Act. "The Veterans First Act Explained in 60 Seconds" outlines the major flaws of the bill, highlighting how it would continue the dysfunctional VA status quo. 
"If passed, the Veterans First Act would keep it nearly impossible to fire corrupt VA officials, remove the limit on taxpayer funded bonuses to VA employees, and add more bureaucracy to the VA," the video narrator says.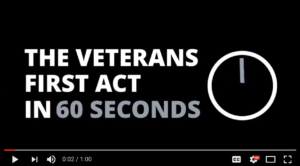 Click here to watch the video.
The video comes on the heels of CVA's new effort to stop the Veterans First Act during the lame-duck Congress. The group's activities include an email and social media campaign, digital ads, meetings on Capitol Hill, and patch-thru phone calls to ask Senators to oppose the bill.
Last week, CVA leadership met with dozens of Senators' offices on Capitol Hill, urging them to oppose the Veterans First Act. In upcoming weeks, the group will also hold several "days of action" in which CVA staff and volunteers will call citizens across the country and patch them through to their representatives to ask them to oppose the Veterans First Act.
CVA Executive Director Mark Lucas released the following statement:
"We're calling the Veterans First Act the 'Washington First Act,' which is a more accurate representation of who this bill actually helps: DC bureaucrats. Congress has a tendency to give bad bills misleading names and try to shove them through when they think no one is watching. Luckily, the veterans community is paying close attention, and thousands of activists around the country are contacting their Senators to oppose the bill. Until this bad piece of legislation is tabled permanently, CVA will continue to lead the charge to oppose it."
CVA has publicly opposed the Veterans First Act since the bill was introduced by Sen. Isakson (R-GA) and Sen. Blumenthal (D-CT) earlier this year. The group took particular issue with the non-transparent manner in which the legislative language was drafted.
CVA supports the VA Accountability First and Appeals Modernization Act of 2016, which would restore accountability at the VA by expediting the removal of problem employees, increasing the power of the VA Secretary to remove problem employees, and preventing bonuses for senior executives for the next five years.
###