Albuquerque, NM — Today Concerned Veterans for America (CVA) is launching digital ads statewide urging the citizens of New Mexico to contact their elected officials and Secretary of State Maggie Toulouse Oliver in an effort to block an anti-free speech measure in the state. The ads direct citizens to a page on CVA's website where they can take action.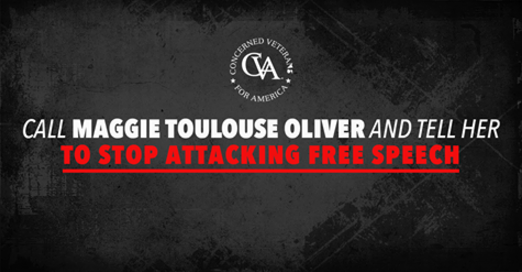 Recently, Secretary Oliver announced a proposed rule that would force many non-profit organizations and charitable groups to disclose the names and addresses of their supporters, leaving those individuals subject to harassment and intimidation.
CVA Policy Director Dan Caldwell issued the following statement:
"The First Amendment is the foundation of American democracy for a reason. When you strip people of their fundamental right to express themselves — publicly or anonymously — you take away their ability to collaborate, debate, and drive change. Secretary Oliver is circumventing the legislative process in an attempt to intimidate New Mexicans into silence. This is America and no one should be forced to report their personal beliefs to the government."
CVA and its New Mexico chapter of volunteers and concerned citizens are engaged in a grassroots effort to stop Secretary Oliver's proposal and to educate New Mexicans on their First Amendment rights.
Governor Martinez vetoed S.B. 96, another anti-free speech measure, in April. CVA led a coalition of eleven different organizations and sent a letter to Governor Martinez asking her to reject the measure. The group also launched a targeted digital campaign, including a tool which allowed New Mexico constituents to contact Governor Martinez directly via email, Facebook, Twitter, and phone to warn her about the dangers of S.B. 96.
Earlier last year, CVA started "Defend the First," a project dedicated to beating back threats against free speech at the state and federal level.
###