Albuquerque, NM – Today Concerned Veterans for America (CVA) released a digital ad focusing on New Mexico Secretary of State Maggie Toulouse Oliver's refusal to acknowledge and consider the individual comments of hundreds of New Mexicans opposing her anti-free speech measure.
After several public hearings, the Secretary's office received over 750 comments from citizens opposed to her rule, which will force citizens to publicly list personal information in order to support a cause in the state. However, Secretary Oliver refused to count these comments individually because they were submitted using CVA's digital tool, which allowed New Mexicans to submit official comments to her office opposing the measure. This was not a distinction the Secretary chose to draw after the first round of public comments, when several citizens submitted comments from a form letter that favored her measure.
"Government officials abusing their power to shut out the voices who disagree. This is exactly why we need to protect freedom of speech," the ad states. The group urges New Mexicans to take action and oppose the measure by contacting the Secretary's office.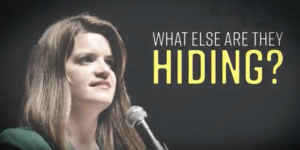 Concerned Veterans for America (CVA) Policy Director Dan Caldwell issued the following statement:
"Secretary Oliver has shown she is willing to do whatever it takes to limit free speech in New Mexico – even silencing the citizens she was elected to protect. It is startling to see her ignore hundreds of New Mexicans who have every reason to oppose this deeply flawed measure. We share the concerns of citizens who believe the Secretary is overstepping her authority by ignoring New Mexico's legislative process in an attempt to force this rule into law."
CVA released a coalition letter of 29 individuals representing 14 different organizations, including former New Mexico Governor Gary Johnson, to abandon her measure.
Governor Martinez vetoed S.B. 96, a similar anti-free speech measure that passed the legislature in April. CVA led a coalition of eleven different organizations and sent a letter to Governor Martinez asking her to reject the measure.
Earlier last year, CVA started "Defend the First," a project dedicated to beating back threats against free speech at the state and federal level.
###