Greenville, SC – Last night, Concerned Veterans for America (CVA) hosted the organization's first Defend the First event in Greenville with Congressman Trey Gowdy (R-SC). The event at the Old Cigar Warehouse in downtown Greenville drew a crowd of over 150 veterans, military family members, and patriotic South Carolinians for a meaningful discussion about the major threats to free speech.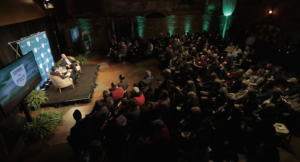 A crowd of over 150 veterans and patriotic South Carolinians gathered to hear CVA Executive Director Mark Lucas and Trey Gowdy discuss threats to free speech.

"People who speak up against the government face retaliation. Veterans certainly didn't sacrifice to be silenced by our own government. CVA believes that freedom of speech, which millions have died to protect, is worth defending at home when service men and women are finished serving," said Lucas.
"Free speech is the ability to speak truth to power without consequences," said Rep Gowdy. "You should have the right to say things that I fundamentally disagree with. Today the sun may shine on me, but it won't be that way all the time. Tomorrow they might want to censor me."
Special guest Brandon Coleman, one of the original whistleblowers at the Department of Veterans Affairs (VA) in Phoenix, joined the kickoff event. Coleman was retaliated against after speaking up about problems at the VA. He was issued a gag order and had his medical records tampered with by VA employees.
CVA's Defend the First project will take a broad focus on threats against free speech – the ways the government uses private information of citizens to silence dissidents as well as an emerging culture of censorship in America. In 2017, CVA will seek to partner with elected officials and advocates to engage in an open dialogue about the importance of freedom of speech to a free and tolerant society. The group will act quickly to beat back any legislative or regulatory threats against free speech that are identified on a state and federal level.
The livestream was recorded and is available here. For media inquires regarding Defend the First, please contact press@cv4a.org. For more information, visit www.defendthefirst.org. 
###