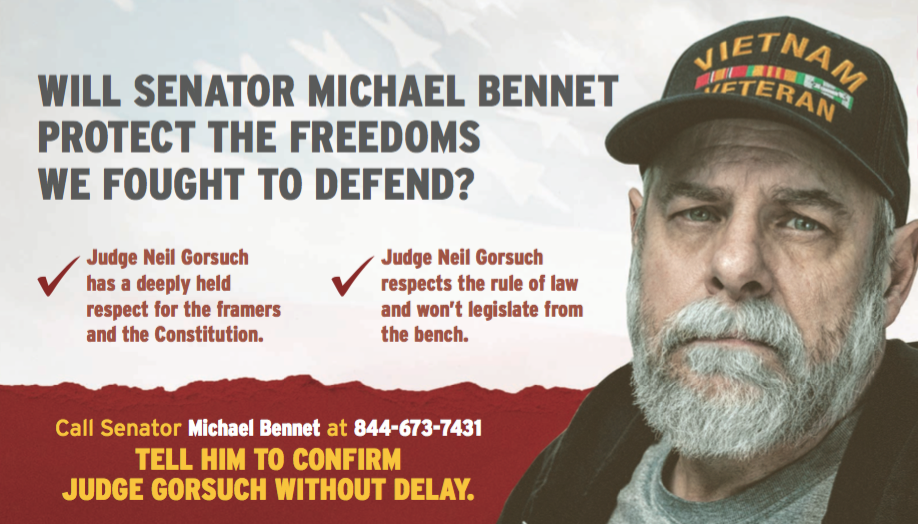 Denver, CO – This week Concerned Veterans for America (CVA) is dropping direct mail in Colorado, asking citizens to urge Senator Bennet to confirm Judge Neil Gorsuch without delay. So far, Senator Bennet has failed to support Gorsuch, a native of the state.  
Each piece of mail directs citizens to call a CVA switchboard where they are informed about Neil Gorsuch's record and then patched through to Senator Bennet's office. The group will also drop mail in targeted markets throughout Indiana, North Dakota, West Virginia, Missouri, Florida, and Montana.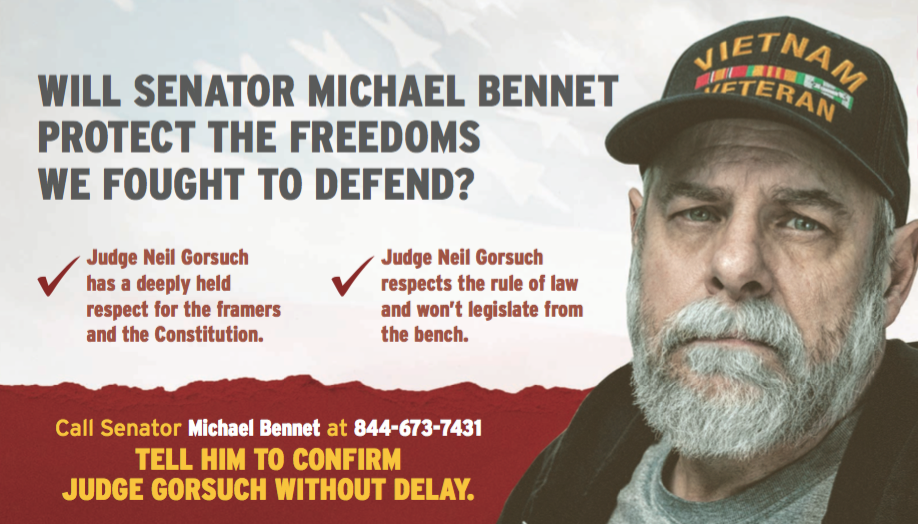 CVA mailer directing veterans and military family members in Colorado to urge Senator Bennet to confirm Judge Gorsuch without delay.
CVA Colorado Coalitions Director Frank Crocker issued the following statement:
"Judge Gorsuch is qualified and his opinions make clear that he will respect the rule of law as it is written. There is no legitimate reason for Senator Bennet to delay Gorsuch's confirmation process – this should be an easy decision.
"The Colorado veteran community is deeply invested in ensuring that the next Supreme Court justice will respect the Constitution they fought and sacrificed to defend. CVA will continue mobilizing our activists to push Senator Bennet to support Neil Gorsuch until the moment Gorsuch is confirmed to the bench."
The Colorado Springs Gazette recently published an editorial urging Sen. Bennet to support Neil Gorsuch, writing, "We hope Bennet votes in the best interest of Colorado, the court and the country, without regard for party pressure to act in bitterness and revenge."
The night President Trump announced Neil Gorsuch's nomination, CVA immediately issued a statement of support and launched a grassroots effort including regular phone banks and digital activism to help pressure the Senate to confirm Gorsuch without delay.
###