Columbia, SC — Today Concerned Veterans for America (CVA) launched a new effort to stop a South Carolina anti-free speech bill, S. 255, introduced by state Senator Hugh Leatherman (R-SC). If passed, S. 255 would allow the government to access private information about South Carolina citizens in an effort to find out what causes they personally support. This opens private citizens and groups up to the threat of discrimination and retaliation by the government.
CVA will engage in an on-the-ground effort including phone banks and direct mail. The group will also run a digital campaign asking South Carolina activists to call, email, and contact their elected officials about S. 255.
CVA will release a series of targeted web ads, each aimed at urging various state legislators to oppose this attack on free speech. The ad below is aimed at Senator Mike Gambrell of South Carolina's 4th district. The group will also release ads encouraging Senators Rex Rice, Tom Young, Stephen Goldfinch, and Sandy Senn to oppose S. 255.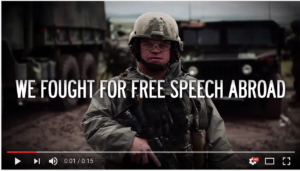 Concerned Veterans for America Policy Director Dan Caldwell issued the following statement:

"S.255 would infringe upon the free speech rights that veterans fought and sacrificed to defend. This bill strips away the privacy of individuals who want to advocate for policies they support – all in an effort to control what citizens can and cannot say. If passed, this bill would chill debate and freedom of expression across the state. CVA will fight tirelessly to beat back this anti-free speech measure in South Carolina."
In December, CVA launched "Defend the First" (www.defendthefirst.org), a project dedicated to defending freedom of speech under the First Amendment. "Defend the First" takes broad focus on threats against free speech – the ways the government uses private information of citizens to silence dissidents as well as an emerging culture of censorship in America.
###